1. How does a modular home differ from those homes that are built on site?
Three of the most important differences are:
Quality – All modular homes are built under high quality standards in a controlled environment. The homes are typically built with 25% more wood than a traditional site-built home, in order to withstand highway transportation and crane lifting at the site.
Construction Time – Modular homes are usually built in about ½ of the time a typical site built home can be completed.
Price - You will find the price of a modular home generally less than a traditional site built home of comparable size.
top
2. How is a modular home built?
A modular home begins as a highly engineered method of producing building components in an efficient and cost effective manner. The building components, or modular units, are actually built on an assembly line. They are designed, engineered and assembled in a controlled factory environment. When the modular units come together on your building site, and the final finishing work is completed, the components become a solidly built, customized home for you and your family.

top
3. How long does it take to build a modular home?
Speed is one of the many advantages for choosing modular technology for your new home. On average, a typical home can be completed in less than half the time of traditional site-built construction. After factory scheduling, a home consisting of two to four modules will be constructed by the factory within six to ten days. Once the manufacturing process is complete, typically with the interior finish right down to carpets and wall finish, the units will be transported to the building site, placed on the foundation and made weather tight, generally in one or two days. Normally the home can be completed and ready for your occupancy in a few months.
4. Can you list some of the benefits of Modular Construction?
Computer engineered plans
NJ State approval by an independent third party engineering firm for code compliance
Constructed in climate controlled environment
Efficient building process and material usage
Energy efficient
Consistent quality
Continuous in-plant inspections by quality control specialists
Design flexibility
Constructed to meet or exceed NJ State and local building code requirements
5. What does a modular home look like?
A modular home can absolutely look however you want it to look. See the Photo Gallery's Portfolio of Homes and our Home and Floor Plans pages. If you think a modular home looks like a simple box, you'll change your mind when you see the creative elevations of our homes.
6. How many sections does it take to build a modular home?
We have the capability to place any number of modules in any direction to create unique and interesting floorplans and elevations. Ranches are usually built in two sections. However, we have built "H-shaped" ranches and extended capes in as many as six sections. Two-story homes are generally built in four to six sections.
7. Are the floor plans on your website the only ones I can choose from?
NOT AT ALL!! We have hundreds of floor plans from which to choose. Our design staff will help you select one that suits your taste, and will gladly make any modifications that you desire. Or, you can bring in any floor plan that you like and consult with our staff.
YES!! The design team at RBA will work individually with you to incorporate your ideas into your dream home. We offer complete design flexibility at no additional cost. You will also save thousands on architectural fees.
9. How large are the modular sections?
Each modular section is usually constructed in widths ranging from approximately 12 to 16 feet and lengths up to 64 feet. (For example, a ranch home built in two sections can range from 24 to 32 feet in width and up to 64 feet in length.)
10. How much of the modular home is finished before delivery?
Depending on the construction package that you choose, a modular home can be as much as 80% complete when it is delivered from the factory, including kitchen cabinetry, lighting and plumbing fixtures, counter tops, electrical wiring, plumbing, interior painting and flooring. Within a short time, you can be ready to move in!
11. I've never built a home before. Is the process complex?
NOT WITH RBA! We take the complexity out of it for you. We will walk you through the process and help you handle everything that needs to be completed, from start to finish - from design to Certificate of Occupancy. Our design consultants will help you with the myriad of choices that are available, and make sure all decisions are made before construction begins, so there is never a hold up. We do everything we can to make the process of building your new home a smooth, enjoyable, and positive experience.
The one thing that sets RBA apart from other builders is the level of satisfaction of our customer. We will not leave your new home until you are satisfied that the work has been completed as promised. It is also our standard policy to complete an additional walk-through one year after you move into your home and respond to any issues that arise in the interim. Look at the Testimonials page to see what some of our customers have to say.
12. How can I see some modular homes, so I can make an informed decision?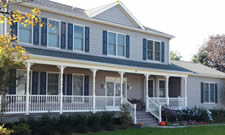 Simply call RBA Homes at 732.747.3800 and
one of our staff will arrange a visit to some of our
customers' homes. There you will not only see the home but speak to our satisfied customers.
13. Ok, I'm interested. How do I proceed?
Please call us at 732-747-3800 or complete the
questionnaire under Contact Us and request more information.
An RBA representative will contact you shortly.