"Now that I've built a home using a modular approach,
I would never stick build again!"
Pat and Joan decided to use modular
technology to build their summer home
in Spring Lake. They interviewed as
many as five modular companies, and
found RBA to be the most
knowledgeable and professional. "After
we chose RBA, we found everyone
there to be attentive to our needs. And
whenever they said that they'd be here,
they were here!"

"Using RBA and modular technology saved us approximately 25% compared to other builders that we interviewed. Considering all the custom features such as built-in bookcases and beautiful decorative mouldings, it is amazing that we were able to finish the project on budget."






| | |
| --- | --- |
| | "We started the project in November and moved in the following May. Another builder we interviewed estimated the project would take 18 months. With RBA we built our house in just over 5 months, and that was during the winter!" |
"We realized that not only could we save time, but we could build a beautiful, fully custom home."
Robert and Lisa initially researched modular homes because they were in a hurry to move into a new home. When they found RBA Homes, their first step
was to walk through some of RBA's
finished homes. "We were sold by the
second home" said Robert.

"We did not need to use an architect, which is a great time and money saver.
Seeing the other RBA homes that were
built using modular technology gave us
ideas for options and design. Then,
working with Pandora Jacoubs who has
so much experience designing RBA
homes, we were quickly able to make
our design choices. Pandora was
great to work with."

"We took advantage of RBA's turnkey program where project management is
handled by RBA. Bill Lashovitz and Bob Dull have been in the business a long time, and with that come excellent
relationships with high quality
contractors. All the scheduling and
coordination was handled by RBA,
making the process painless to us.
We can't think of anything RBA could
have done better; they even fixed dings
on the walls that we caused when we
moved in."

"The day of the build, assembly of the modules started at 7 a.m. By lunchtime I was walking through my house!"
"We added a rocking-chair front porch to the house, and we love how that looks. The best part though, is that the Memorial Day Parade comes right down our street. We'll be sitting on our porch every year waving our flag!"
"I talked to other modular builders. They weren't as custom or as personal as RBA."
A s a single woman, Cathy wanted a builder she could trust and have confidence in. "RBA started with my budget, square footage and desires and they came up with a plan. Other modular companies just threw a stack of plans at me and said 'pick one'!"

Cathy was impressed by RBAs diligence. "The punch list at the end was very short because issues were taken care of as they came up. They even came back after a year to repair cracks from the house settling!"

Floor Plan for 'The Catherine'
"Using the modular approach cut my construction time at least in half."
"RBA was wonderful. Bob Dull was here often and he always kept me informed. There were no
delays, and the home took 3 months and 4 days from the set day to the move-in day."
"I wanted a whole wall of glass in the dining room, but that was not practical. Pandora suggested grouping floor-to-ceiling windows with transoms above and a sliding glass door. It has the same effect. I just love the whole open feeling of the house."
"We have recommended RBA many times; what a great company! We feel so lucky to have found them."
Howard and Nancy thought modular would
be more cost effective, so they looked in the
Yellow Pages for modular builders. "We spoke
with Bill Lashovitz on the phone and liked him
immediately. Then, we met with Pandora and
we hit it off. We knew they were the ones!
RBA has shown our home to potential
customers, and they cannot believe it is
modular construction! It really is a
custom home."





"RBA did a lot of the legwork and
eliminated the need for an architect.
In every phase of the project, things
went smoothly. We consider them to
be our friends, and who can say
that about their builder?"
"I just love my home! I love the openness and especially the spacious kitchen. I have two full size ovens and a five-burner cooktop; room for me to cook and for guests to hang out. It is just fabulous!"
"Building a house is supposed to be stressful, right?!
RBA made it extremely easy for us!"
Joe and Liz owned an older Cape Cod style home in Ortley Beach, and originally wanted to renovate and add a second story. They saw an RBA home being built in the neighborhood, and changed their plans. They worked with RBA to design a 3-story, 7-bedroom home on their 40-foot wide property. They made this decision at the end of one summer and needed to be in by the following summer. "RBA did everything, even took down the old house, and they met our timeline!"

"We were lucky that Ortley Beach zoning allows for a third floor. We were planning to finish it off later. Bob Dull suggested doing it now because it would be cost effective and very easy to do..."

The homeowners also wanted to see their house being built, and RBA was happy to have them come to the factory. "Bill Lashovitz even met us there to watch! It is a very well built, sturdy home"
Talk about curb appeal -
Scott and Lisa have had inquiries from people driving by
who wanted to know the name of their builder!
Scott and Lisa were married just a few years when they began their search for a home builder. They owned a small house in Edison that they knew they would need to tear down.
"RBA's prices were much better than the other builders we talked to;" says Lisa.
Scott and Lisa based their design on one of the standard RBA plans, but were able to make key changes that they wanted. Their 4-bedroom, 2-full bath, 2,900 square foot home was built extra wide and with a full wrap-around porch, both features they considered important.
"My biggest fear was that I wouldn't like my kitchen, where I spend most of my time with the children;" says Lisa. She wasn't sure of how to match the cabinetry with the counter materials and the flooring, because, as she points out, "I am not a designer!" But with the help of the RBA design staff, Lisa is very happy with her large and bright kitchen.

"Other builders we interviewed were not only more expensive, they were also inflexible - they didn't want to deviate from standard plans."
"We didn't want a 'cookie-cutter' house..."
After the birth of their son, Kristin and Tim
needed more space. They considered an
addition to their small cape, but their
architect suggested starting from scratch would be a better investment. He recommended a modular approach with
RBA Homes. They were able to afford a
beautiful brand new home, without any
of the constraints of remodeling an older
home. Most importantly, it is designed
exactly the way they wanted.

As restaurant owners at the Jersey Shore,
it was critical for them to be in their house
before the busy summer season. They
started planning in the fall of 2006, and
moved into their new home in June 2007.
"We watched our neighbors start a new
construction before we did. They used a
traditional stick-building approach and they
had to move out of their house for nearly
18 months!"
"We met with the folks at RBA and felt comfortable
right away. We wanted to save money by acting as
our own general contractor and RBA was happy to
work with us."







"RBA built us our dream home..."
..."and most importantly,
they did it in our price range!"
Greg and Erin got a great deal on an empty
lot in Highlands. After the purchase they
wondered how they could afford to build a
house on it. Their research led them to
investigate the modular process and they interviewed several modular home builders.
"We chose RBA because they were right here
in Red Bank, they were flexible with design,
and we really liked the people at RBA—so
important since we knew we'd be spending
a lot of time with them."

"We knew we couldn't afford to have RBA do it all. We asked them about finishing it ourselves. They gave us advice and guided us. They said it wouldn't be too difficult and it wasn't. RBA even helped us with obtaining financing and home insurance."

Greg and Erin applied for Energy Star certification for their house, which entails making sure that the home is especially well insulated, tight, and meets certain energy efficiency standards. When the Energy Star team came to test the home, they said it was the tightest built house in the tri-state area! "Our house is very well built," says Greg, "partially due to the modular technology—built extremely sturdy to withstand traveling on the roads from the factory to our lot."
| | |
| --- | --- |
| | "I'm almost surprised that RBA asked me for a testimonial," says Greg, "since I bothered them so often about every little detail—I'm sure I drove them crazy. But everything in this house is EXACTLY the way I want it." |
"If we had to do it over again, we would choose the
very same people! We were very happy with RBA."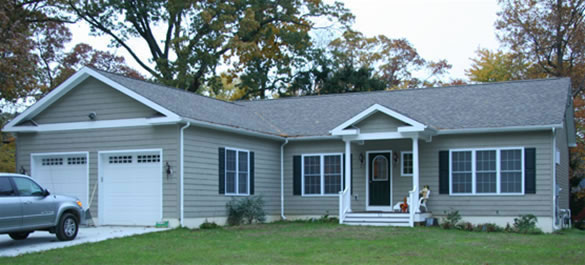 Jeanine and her
son Ken were
living in a small
bungalow on a
lovely piece of
property in
Monmouth
County.
When they were ready to tear it down and build a new ranch house, they began looking for a modular home as a way to save money. Their trip to manufacturers in Lancaster, Pennsylvania led them right back to Red Bank, NJ and to RBA Homes, a custom modular builder.

"We looked at a book of floor plans of homes that RBA has built, and we were able to talk with several of RBA's customers. This made us feel comfortable with RBA, and generated great ideas for our new home. Even though it's a small house, there were lots of decisions to be made. RBA was very patient with us. In particular, Bob and Pandora worked to incorporate our ideas into the design."

| | |
| --- | --- |
| | "RBA helped us with every phase from planning and design through permits and construction. We wanted to do things right, and they made what seemed to be an overwhelming job go easily and smoothly. They even helped us with where to situate the house on the property to get the best views and light." |



"I love my new house on my old property!"





Rod is fortunate that he was able to purchase the land in Monmouth County where he grew up, in order to keep it in the family. He loves the large wooded lot, and wanted to build a new home, with access to the idyllic views. He met RBA Homes at a home show, and he knew that the convenience and speed of modular building was what he wanted.

"RBA was very flexible to work with. I was able to get features that were important to me, such as the Andersen doors out to my deck, an archway between the kitchen and living room, hardwood floors, and high-efficiency heating and cooling. All their contractors were excellent."

"RBA also handled unforeseen issues extremely well. My property required a good deal of landscaping and tree removal. RBA's on-site contracting staff was able to save me thousands of dollars by helping to clear the land for the septic system installation. This was above and beyond what I expected them to do."

Floor Plan for 'The Deveaux'

"I chose RBA Homes especially because they were local and convenient. It was easy to work with Pandora, Bill and Bob — I think they had to put up with me more than vice-versa!"


"RBA was very flexible to work with. I was able to get features that were important to me, such as the Andersen doors out to my deck, an archway between the kitchen and living room, hardwood floors, and high-efficiency heating and cooling. All their contractors were excellent."
"We've already recommended RBA Homes.
Our neighbor's house will be delivered next month."


Mike and Grace are new RBA homeowners, and they had an extremely pleasurable experience. "You cannot put a price on the element of trust that we developed with RBA homes. Whatever RBA said they would do, they did it!"

After buying a small property in Chadwick Beach, Mike and Grace decided to build a modular home, rimarily because it would be faster and would afford them superior quality control. They researched several builders, and chose RBA Homes for their workmanship, history, and longevity. "We saw homes they had built, we spoke with the people at RBA, and we felt their integrity."

"RBA gave us many design ideas, based on their experience and previous projects. We were able to create an open floor plan and orient our home to take advantage of the beautiful water views from nearly every room. We chose beautiful materials and feel we got so much for our money."

"RBA gave us many design

ideas, based on their experience

and previous projects."


top



---
"We have never met anyone before who
would recommend their builder, but we
would not hesitate to recommend RBA Homes!"


Mike and Karen purchased a lot in Brielle, and decided to build a modular home. They were aware that modular construction was solid, went up quickly, and could be cheaper than stick building for the same quality.

Mike and Karen were impressed with the flexibility of RBA to design a custom home and not just have to choose from a set of standard plans. They were also impressed with the completed RBA homes that they visited. "We knew immediately that our styles matched!"

The project worked so perfectly for Karen and Mike that friends and relatives could not believe how smoothly it all went. "The entire process took one year from buying the land to moving into our new home. The design process was a highlight — Pandora Jacoubs and Bob Dull were wonderful at design, ideas and drawings. We were able to get the cost advantages of the factory, together with unique features through on-site custom work. RBA met all their schedules, and after completion, they stopped by to follow-up with us."

"There are so many things I love about my home — RBA was great with design and quality. We have beautiful moldings, a picture-perfect front porch, a farmhouse kitchen sink, hardwood floors, and the large closets that I wanted, just to name a few features! To sum it up, RBA listened to us!"

"We interviewed six modular companies before we found RBA. We knew right away that they were the one."


top



---